Share your schedule with anyone.
Have an assistant, suite mate, spouse, or friend who needs to know your comings & goings? Grant them access to your schedule in three different ways. Revoke anytime.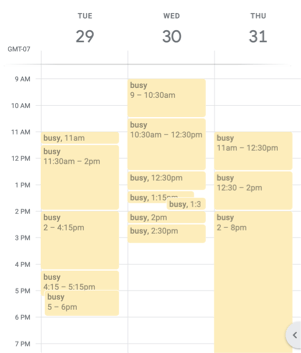 I'm still confused on why I'd want to share my schedule with someone.
Very important people (VIPs) in your life might constantly ask you about your schedule.
Maybe it's your suite mate, spouse 😘, assistant, boo-thang, squirrel monkey 🐿, or bae (is that still a thing??).
Suite mate: "Are you working Friday?"
Suite mate: "Can I fit someone in Tuesday afternoon?"
Suite mate: "What about Thursday the 27th?"
Assistant: "Who do we have coming in next?"
Assistant: "What are we doing for Jenn?"
Assistant: "How slammed are we today?"
Spouse: "You free for lunch Wednesday?"
Spouse: "When's your last one on Saturday?"
Spouse: "Are you working late tonight? Again?? Because if you are, I'm taking the dog and leaving you. 🚁"
Why can't they see the full appointment details?
They can if you give them those permissions. The screenshot above is just showing the most restricted form. There are four levels of sharing:
Limited (show start/stop times only)
Read-only (see appt details, but can't edit)
Writable (view and edit information).
Manage (own, share, view, and edit info)
I want all the deets of how this works.
Sharing puts an end to the constant questions from your VIPs.
Because Hummingbook is built on Google Calendar, you can share anything with anyone at anytime.
But don't worry: you stay in total control of what they can and can't do; what they can and can't see.
Grant full access so VIPs can make changes
Restrict them so they can see names and details but not edit
Hide personal info (names, numbers, etc.) but still show when you're free/busy
Share your hours, your appointments, or both
Give each person different levels of detail
Cut anyone off at anytime
The best part? Your VIPs always see the most up-to-date version of your schedule, regardless of what device they're on. Any changes you make are instantly updated on their side.
Can I share my availability too? How??
Yes. You can share both your appointments calendar and your availability (your hours) calendar.
This is easiest to do on a bigger screen (laptop or iPad). Here's how:
Hover over the calendar you want to share [in left sidebar]
Click the three dots
Click Settings and sharing
Click Share with specific people
Click Add people
Pop in their email address.
Adjust permissions
Click Send
Contact us if you get stumped.