Share your schedule with anyone
Share schedules with your spouse, suite mate, assistant, or friend. Give them whatever access you're comfy with: let them make edits, read only, or only see start/stop times.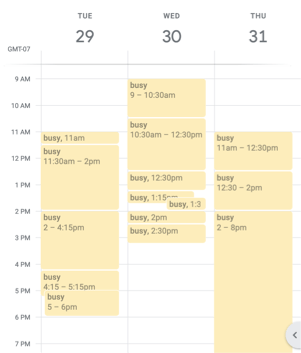 Problem
Very important people (VIPs) in your life constantly ask you about your schedule.
Maybe it's your suite mate, spouse 😘, assistant, boo-thang, squirrel monkey 🐿, or bae (is that still a thing??).
Suite mate: "Are you working Friday?"
Suite mate: "Can I fit someone in Tuesday afternoon?"
Suite mate: "What about Thursday the 27th?"
Assistant: "Who do we have coming in next?"
Assistant: "What are we doing for Jenn?"
Assistant: "How slammed are we today?"
Spouse: "You free for lunch Wednesday?"
Spouse: "When's your last one on Saturday?"
Spouse: "Are you working late tonight? Again?? Because if you are, I'm taking the dog and leaving you. 🚁"
Solution
Share your calendar with these VIPs and put an end to the constant questions.
Because Hummingbook is built on Google Calendar, you can share anything with anyone at anytime.
But don't worry: you stay in total control of what they can and can't do; what they can and can't see.
Grant full access so VIPs can make changes
Restrict them so they can see names and details but not edit
Hide personal info (names, numbers, etc.) but still show when you're free/busy
Share your hours, your appointments, or both
Give each person different levels of detail
Cut anyone off at anytime
The best part? Your VIPs always see the most up-to-date version of your schedule, regardless of what device they're on. Any changes you make are instantly updated on their side.