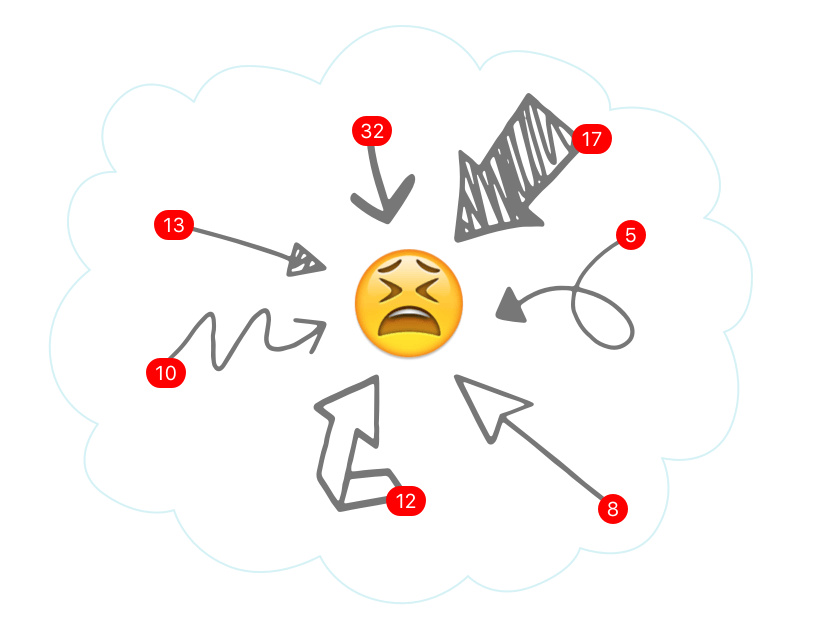 Let clients book appointments online and reclaim 4.2 hours a week.
You're constantly bombarded by clients. "When can you get me in??" You handle one. Three more pop up. Texts, calls, emails, Facebook, Instagram, etc. It never ends. You're overwhelmed and overrun. There's a better way. Take your life back: Let clients book appointments online with Hummingbook.

"It really works. It makes your life a million times easier."
Alyssa Wells • Hairdresser • Tempe, AZ
@alyssa_n_wells

"By noon—before Hummingbook—I'd have 10 texts from unknowns all asking when I can get them in. It was mind numbing. Now I wake up to actual appointments in my calendar. It's magic."
Colleen Roseen • Permanent Makeup Artist • Tempe, AZ
www.azmakeup.com
Take your life back.
// A message from the founder
I'm asking you to do something scary.
I want you to stop booking clients manually. I want you to start using Hummingbook.
I want you to take your life back.
It takes guts to abandon your current system. And faith that Hummingbook can book clients as good—if not better—than you.
But why trust what I built? Why trust Hummingbook?
Because I have the brain of an aeronautical engineer and worked on autopilots? Because I used to build $100,000+ websites? Because 8541 appointments have been successfully booked via Hummingbook? Because Dana booked six people while at a vineyard without looking at her phone? Because people just like you are gushing over Hummingbook? Because if Hummingbook can handle Colleen's complex permanent makeup scheduling, it can handle yours? Because I have great hair?
Yes. All good reasons…
But the best reason to trust me is this: (480) 254-2944.
That's my personal cell phone number. The number friends have. The number my mom has.
I want you to have it so you have confidence. Confidence that Hummingbook works. That I—the founder/developer—will be there every step during the switch.
So call/text me. Day or night. For real. You won't interrupt me. (I know how to use do-not-disturb mode.)
Not ready to switch?
Let's have a quick convo to see whether Hummingbook is right for you.
No sales scripts. No BS. Just an honest chat between you (someone that's overwhelmed) and me (someone who can likely fix your overwhelm).

Christian Tessmer

PS: Don't wait, call/text now! I don't know how long I'll be able to keep my personal number listed.

"I LOVE that it took less than 10 minutes to email 4 people and they have ALL booked with Tim! ❤️ Hummingbook."
Jessica West • Executive Assistant • Phoenix, AZ
@urbanhipstermom
Save 1.7 hours a week with clients using this simple phone hack. (Hint: You don't need Hummingbook to use it.)
Get the free trick
18 reasons to let clients book appointments online with Hummingbook.
Number 6 is gonna blow you away.
Reason 1 of 18
Take back your life & melt the stress of scheduling forever.
The dings. The vibrations. The constant back & forth. Calls and texts that start at 6am and don't stop till 11pm. All these d-i-s-t-r-a-c-t-i-o-n-s mean you're missing out on the "now." Your family. Your friends. Your dog. Netflix.
You deserve better. Whether you book 2 clients a day or 20, Hummingbook takes you from overwhelmed and overrun to peaceful and focused. Don't take our word for it: hear what our customers have to say.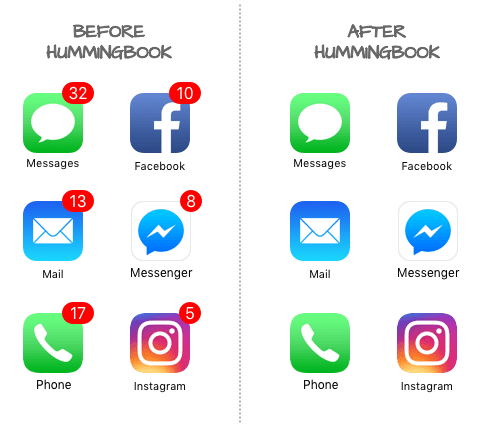 Reason 2 of 18
Handle clients in 5 seconds flat—not 5 minutes.
Right now it probably takes you about 5 minutes to book each client. Say you book 10 people a day. That's 5 min/person * 10 people/day * 5 days/week * 4 weeks/month. That's 1000 minutes/month!
You're wasting 16.7 hours per month booking!!!
(Hard to believe? You're likely falling victim to the "planning fallacy" coined by Daniel Kahneman and his research in 1979. I'll blog about this soon.)
Handle each client in 5 seconds flat with Hummingbook. All you do is type "bbb" and press send. Text, email, Facebook, Instagram, Twitter, etc… it doesn't matter. Hummingbook works anywhere you can type. ⚡️ It's lightning fast.
Reason 3 of 18
Book more appointments due to these 3 guiding principles.
Jeff Bezos, the CEO of Amazon, says, "Invest in the things that never go out of style." Would your clients ever want booking to be slower? Less friendly? Harder to use? Never! Hummingbook is built on these three principles:
Fast. That means super-snappy load times and simple booking processes.
Friendly. Shouldn't your booking system be as warm and friendly as you are? We think so. It's your first impression after all.
Easy. Or better put: Don't make me think. If we're making your client (or you) think, we're doing something wrong.
We used to build $100,000 websites. Now you have the best of all we've learned over the years packed into every pixel of your booking system.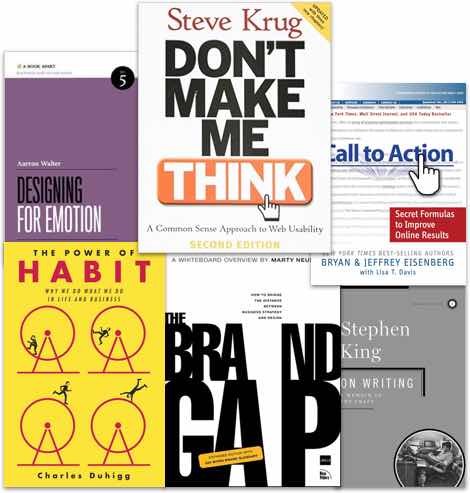 Reason 4 of 18
Curb no-shows cold thanks to these.
People are more distracted than ever. ADD is at an all time high. The dinging device glued to your hand is designed to distract. If there's something you can count on when manually booking clients, it's that many will forget their appointment.
Hummingboook stops no-shows cold via three reminder emails. One confirmation email and two reminders. The confirmation goes out the instant they book. They get a second reminder 3 days before. A third hits their inbox 24 hours prior.
Each email contains your contact info, your location, and of course the time they're scheduled. (Also a cancellation link for good measure.) With Hummingbook, there's no excuse for no-shows.
Reason 5 of 18
Keep your schedule private.
Do you really want your clients knowing when you'll be in? What about when you're leaving at night? How safe is that?? What about your lunch hours? And is it their business to see the other appointments in your schedule?
No x 1000. Your schedule is your business. Let clients book appointments online without exposing your calendar. Hummingbook only shows when you're available—nothing more.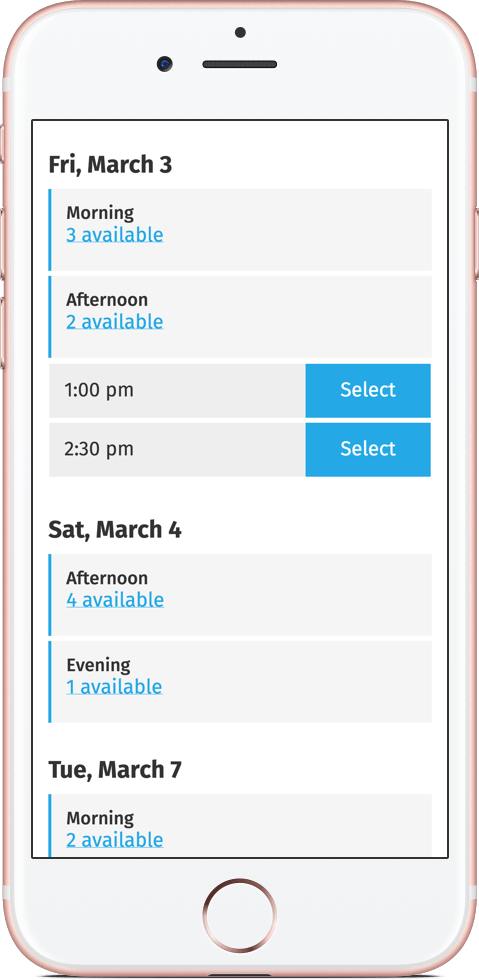 Reason 6 of 18
Stack appointments back to back… automagically.
Think about how you schedule clients now. You don't scatter them randomly throughout your day. You pack them tight together. One stops—the next starts. Why? Gaps in your day waste your time, momentum, and money.
Hummingbook books your appointments back to back—just like you—forming one seamless block. We call this Smart Snapping™. It even works with cushioning. You make more per hour and go home earlier.
Reason 7 of 18
Change your availability on the fly without ever logging in.
Other online scheduling software makes you log in anytime you want to make a change. Gross. It'll take longer to type in your password than make the actual change!
Not here. You never have to login to change your hours. Just pop open the calendar app that you already know and love and make the edits.
Done.
Take Friday off. Extend your Saturday hours. Leave early Monday. Change all your hours moving forward or just some.
With Hummingbook, your hours are 100% flexible and 100% immediate.
Reason 8 of 18
Raise your prices without being the bad guy.
When's the last time you raised your prices? A year ago? Two? Five? Never?
Why? Haven't you improved? Haven't you gained more experience? Aren't you just flat out better NOW than you were five years ago? And even if you aren't (hint: you are), isn't there something called inflation that you need to account for?
Friend… it's time for a raise. You deserve it.
Let Hummingbook deliver the "bad" news to your client.
Your prices are listed in plain sight while clients book. Hummingbook tallies their total just as like on Amazon. (There's nothing for you to explain or rationalize.) Most clients don't bat an eye. And to the few that do, well, do you really want someone that cries over $5?
PS: Nearly every Hummingbook customer has raised their rates. Some by $5 an item, and others by $150 (yes… $150!!) per item. None of them have gone out of business. In fact, they're all making more now than ever before. Why not join them?

"Awesome. Hummingbook tells people how long their appts will be. People always ask me this. The best part? That one appointment—my first one with you—netted me an extra $30. And the first person to ever book should have been the biggest pain in the ass. Nope. She just booked. No questions. No texts. No problems."
Mark Yori • Hairdresser • Scottsdale, AZ
www.markyori.com
Reason 9 of 18
Eat a donut while we setup your account for you.
Hummingbook is dead-simple to setup on your own. But… it still might be scary for you. That's ok. Change is scary.
Whether you're a technophobe glued to your paper appointment book, or you just don't have enough time in the day to breathe, we got you covered.
We'll setup Hummingbook for you. We'll call you and patiently walk you through every facet. (Clients have even texted pics of their services scribbled on index cards between their appointments!)
Are you in the Phoenix 🌵 area? We'll bring you a donut—or twelve—and get you up and running. :) Because we like you. And meeting face to face is a lost art form.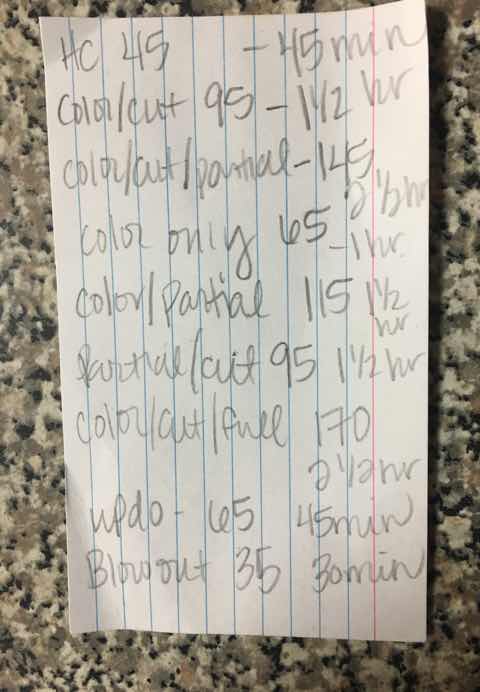 Reason 10 of 18
Recharge with a built-in cushion between appointments.
We're all about efficiency—but not if it costs you your calm. Need a break between each appointment to clean up, take notes, prep for your next one, account for for natural variances, or simply decompress?
Just tell Hummingbook to put in a 5, 10, 15 or more minutes between your appointments. You'll have a consistent cushion so you stay calm and in control of your day.
Reason 11 of 18
Protect your future vacations and holidays.
You're scared. It makes sense. You're thinking that if you open your schedule up, then people will be able to schedule whenever, where-ever.
"What if my client schedules something six weeks from now and bungles up my not-yet-planned vacation plans??"
We got you covered kemosabe.
You decide how far in advanced you want Hummingbook to book you.
Two weeks out? Two months? More? Less? It's totally up to you. Most people stick with the default three month look ahead time, but, the world is your oyster.
E.g. Say you set your schedule to be available every Friday from here to eternity. Then say you adjust your look ahead time to be one month. That means Hummingbook only shows your next four Fridays as available. In other words, you don't constantly have to update your hours. They roll with you.
Reason 12 of 18
Screen clients with custom questions.
Want to know what you're walking into? Find yourself asking clients the same thing over and over? Do their answers change how long your appointment will take? How much you'll charge them? How you can better serve them?
This is a thankless time-suck that never ends—until today.
Hummingbook asks your clients the questions you tell it to ask.
No more back and forth. It's like having your own personal assistant.
The answers land in the notes of your client's appointment—right in your calendar. There's no email to dig up or system to log into. Just pop open your calendar and get the low down on who's about to walk through your door.
Reason 13 of 18
Ditch your paper intake forms.
Are there things you tell your clients over and over?
"Make sure you do __________ before you come in."
"Remember my cancellation policy is __________."
"If you're more than 11 minutes late, I'm going to set your car on fire." 🔥🚗🔥🙃
It's a pain to have to communicate these things over and over again.
Or if you're printing them out and having clients physically sign; where do you store that mess of signed sheets? For how long? And what if you actually had to find one? Fact: Paper is messy.
Ditch the paper mess and create your own custom, digital notice in Hummingbook.
A notice sets clear expectations with your clients. It's a place to explain—in your own words—how you handle payments, cancellations, refunds, no-shows, tardiness, or anything else.
The best part? Your clients digitally sign and agree—via a little check box—to your notice while booking. Hummingbook records—behind the scenes—what version they signed, the exact time they signed, and even their IP address. Cover your butt if there is ever a future dispute.
Reason 14 of 18
Sleep easy knowing your schedule is always backed up.
You leave your paper book behind at a restaurant. That free scheduling app you download crashes. Or… heaven forbid… your phone takes a permanent drink from the toilet.
All your appointments—gone.
Not with Hummingbook. Your appointments are always backed up in the cloud.
And getting them back is as easy. Just log into your Gmail/Google account from any phone/tablet/computer with a browser and boom, there they all are. Safe and sound in Google calendar.
Reason 15 of 18
Book appointments online in multiple locations.
Do you work in multiple locations? A couple days here and the others there? Maybe you do over-the-phone, Skype, FaceTime, or other remote consults? Whatever your vagabond case, Hummingbook has you covered.
Your client picks the services they want. Then they pick where they want it. Hummingbook only shows your availability associated with that location. In other words, if your client picks location xyz, and you only work there Thursday and Fridays, Hummingbook filters your schedule to show only Thursday and Friday times.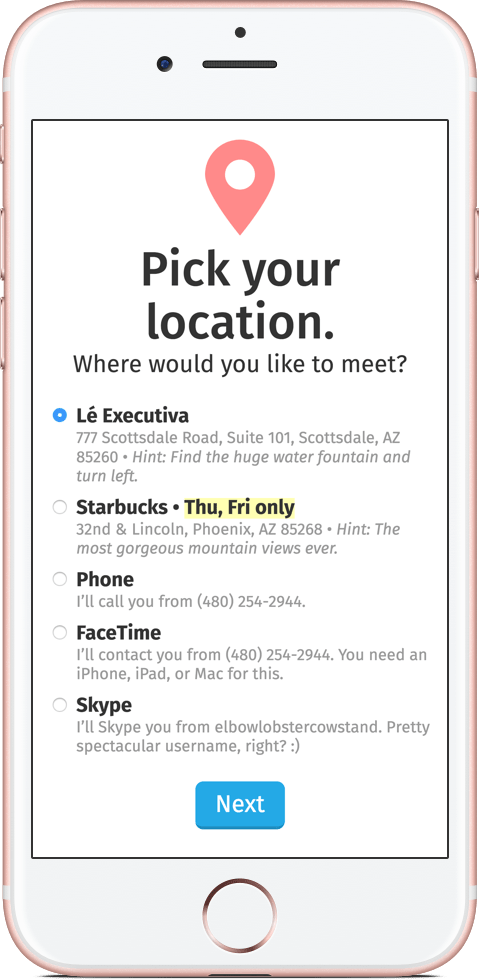 Reason 17 of 18
Savor the power of your phone's built-in calendar.
Apple and Google have spent millions perfecting their calendar apps. Their calendars are woven into the very fabric of your phone.
Fact: You will not find a more seamless calendaring experience than Google or Apple's calendar apps.
You can check your availability via Siri, tap on a date in a text message or email to add it to your schedule, and check your notification center to see what's on your plate today.
So what's the problem? Other online scheduling software asks you to abandon all this awesomeness and download their mediocre, buggy calendar app.
This is a fool's errand! It'd be like ripping out the steering wheel controls to your stereo.
Don't abandon the power of your built-in calendar app—tap into it. Hummingbook works directly with your baked-in Apple or Google calendar.
Revel in the powerful calendaring experience for which your phone was designed.
Reason 18 of 18
Risk-free, money-back guarantee.
No contracts. No setup fees. A 30-day free trial. We'll even setup the whole meal deal for you. But what if you don't love it like our customers love it?
If you stop loving Hummingbook for any reason, tell us. We'll cancel your account and give you a refund for your last paid month. There's no fine print. That's it.
How does it work?
Your client texts you: "Can you get me in this Friday?" You type "book now." Your phone autocompletes a friendly, personal message. This message contains a link. You push send.
Your client books right from their phone in minutes flat.
Their appointment lands directly in your existing calendar. (Read that line again. It's magical. ✨ This is not how a typical online scheduling tool works).
You both get an email confirmation. Your client gets two more reminders. Less no-shows. Stress gone. Hours returned.
The best permanent makeup scheduling tool this side of Mars. (Hint: it's not just for permanent makeup artists.)
Scheduling permanent makeup appointments manually is complicated. Online? Nigh impossible.
High ticket items. Touchups or no touchups? Variable appointment times depending on the client. What about client forms? Pre-care instructions? And cancellation policies? "I need them to fill that stuff out before they book" you say.
Welcome to heaven.
We built our online scheduling tool from the ground up for a real, human permanent makeup artist
Meet Colleen. She's the most in demand permanent makeup artist in Arizona. She's worked on over 2500 clients. She was losing her mind trying to get back to everyone.
Hummingbook gave Colleen her life back. She saves at least seven hours a week. (And she makes more money per item.)
Permanent makeup artsits shouldn't have all the fun: almost anyone can use our online scheduling tool.
Online booking for hairstylists that makes you more money.
It's fun to tell you how great our online scheduling tool is. But it's more fun if you hear straight from Mark Yori. He's a hairdresser at Rumors in Scottsdale, AZ. 🌵
"Awesome. It [Hummingbook] tells people how long their appts will be. People always ask me this. The best part? That one appointment—my first one with you—netted me an extra $30. And the first person to ever book should have been the biggest pain in the a$$. Nope. She just booked. No questions. No texts. No problems."
An online scheduling tool for more than just the beauty industry.
Hair stylists, makeup artists, permanent makeup artists, aestheticians, massage therapists, and other beauty pros love our online scheduling tool.
What if you're not in the beauty industry? No problem.
Hummingbook is personalized for you. If you're a therapist, psychiatrist, chiropractor, tattoo artist, music instructor, personal trainer, doctor, or something else entirely—you'll love it. Promise.