The client scheduler that books appointments directly into your iPhone Calendar. 📲
Hummingbook is the client scheduler made for you: an iPhone lover who's fed up with the constant when-can-you-get-me-in texts, the no shows, the gaps in your schedule, and the around-the-clock interruptions. Take back your life & melt the stress of scheduling forever. Say hi 👋 to your new client scheduler.

"It really works. It makes your life a million times easier."
Alyssa W. • Hairdresser • Tempe, AZ
One-of-a-kind.
5 benefits set Hummingbook apart as the best client scheduler. № 3 might amaze you.

"By noon—before Hummingbook—I'd have 10 texts from unknowns all asking when I can get them in. It was mind numbing. Now I wake up to actual appointments in my calendar. It's magic."
Colleen R. • Permanent Makeup Artist • Tempe, AZ
Don't-make-me-think.
The only client scheduler with don't-make-me-think built in. Here's proof.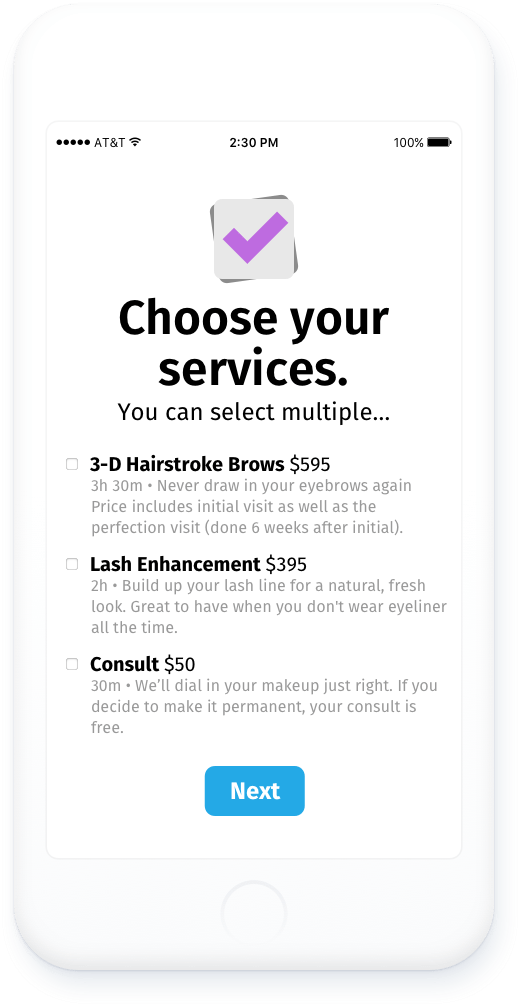 "Awesome. Hummingbook tells people how long their appts will be. Clients always ask me this. The best part? That one appointment—my first one with Hummingbook—netted me an extra $30. And the first person to ever book should have been the biggest pain in the a$$. Nope. She just booked. No questions. No texts. No problems."
Mark Y. • Hairdresser • Scottsdale, AZ
Gotta-get-it
Are you in one of these five industries? Then Hummingbook is the client scheduler you need.