Update your hours in seconds.
Take Friday off. Extend your Saturday. Leave early Monday. Change your hours directly from iPhone Calendar.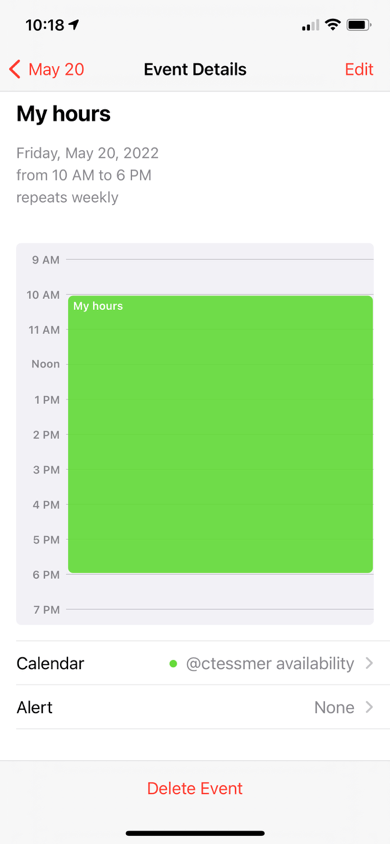 I don't work a set schedule.
Then you're perfect for Hummingbook. You can set your upcoming availability to be only days or weeks out.
Example: Add in your unique availability for the upcoming week on Saturdays, tell your clients your books are open, and your clients will fill up the upcoming week ONLY. (This could be your Saturday ritual.)
Dodge the commitment of a set schedule. And dodge the back and forth of booking each client manually.
My schedule changes too much.
You're still perfect for Hummingbook. Change your schedule as often as you change your outfit. And it's way easier! Just a couple taps and your clients see (or don't see) your new availability.
My schedule is too complex.
Doubt it. You can…
Work every other Saturday & Sunday
Work the next three Thursday nights in a row (but no more)
Let your clients only see seven days into your future
Work extra the second Monday of every month
Set aside time to take a long lunch on Fridays
Any combination of these (or more) work. Still not convinced? Test us with your complicated schedule.
I'll have to login to change my hours.
Nope. There's nothing to login to.
Just pop open your Calendar app on your iPhone—you know, the built-in calendar app that comes with your phone—and edit your hours directly. If you know how to add, delete, or extend a normal appointment, you know how to edit your hours.
(If not, email us and we can show you how in minutes.)
How would I take this Friday off?
Open Calendar
Navigate to Friday
Tap on the My hours block
Tap Delete Event (see image above)
Confirm This event only (if you get this question)
Done! Your clients won't be able to book this Friday anymore. Enjoy your swim, hike, Starbucks, or whatever funsies thing you have planned! 🌴