Dissolve the holes in your day.
Other booking software lets clients book anywhere in your day. Gaps form. Now you're stuck twiddling your thumbs between appts. It's a swiss cheese 🧀 schedule. And it won't happen with Hummingbook.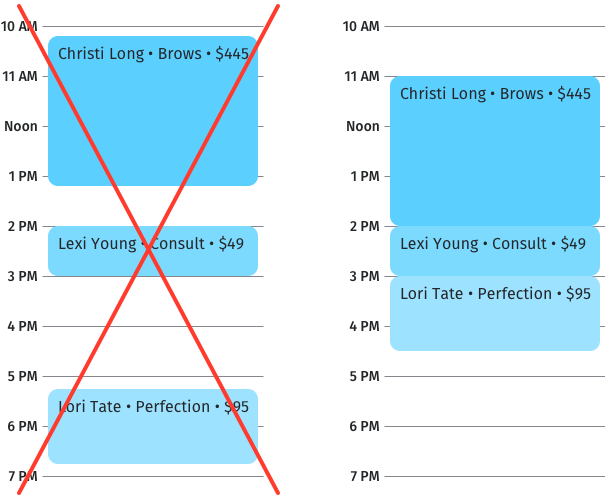 How does this work?
If you have a clean slate, Hummingbook let's your first client book anywhere in your day. After that, clients (booking on that same day) are only shown slots that touch the end/beginning of that initial appointment.
Here's an example…
Setup: Let's say you have availability scheduled next Tuesday from 9:00 am to 6:00 pm, but no appointments (yet).
Clean slate: Haley visits your booking link. She's allowed to book anywhere in your day since nobody else booked yet. (She's booking an hour long Blowout.) Haley picks the 10-11 slot.
Bookends: Jenn is next. She's booking a Root Touch Up (an hour long service). ✨This is the magic part.✨ Hummingbook presents Jenn with only two (2) slots: 9-10 or 11-12. She picks 11-12.
Note: Jenn never sees Haley's appointment. Not even a grayed out representation of it. Hummingbook keeps your schedule totally private.
From this point on, Hummingbook will keep forming a solid block of appointments. No gaps.
Drop us a line with any questions. 😃
This will limit my clients too much. I'm in my studio all day anyway.
No problem. You can turn gapless booking off. Then clients can book wherever their heart desires [based on the hours you set, of course].
I won't be able to recharge between clients. I like gaps.
You're free to turn gapless days off. But what you might really want are consistent, planned gaps. If so, definitely check out cushioning.
Clients will be able to see each others' appointments.
Nope. Won't happen. Hummingbook never displays your existing appointments. Clients can only see when you're available. That's it. Read more about privacy.
How is gapless scheduling "like me"?
When a client asks you for a spot, you likely don't just let them pick wherever they want. You give them options based on what you already have going on.
This is exactly how Hummingbook works.
Hummingbook books your clients back to back—just like you—forming one seamless block of appointments. No gaps.
Example: Say Lauren texts you looking for a Perfection visit (1.5 hours) on Friday. You scan Friday and see someone is already booked from 2 to 3. Ok. No prob. You offer Lauren either a 11:30 or a 3:00. That way your day isn't broken up.
No more downtime—unless you schedule it.