Keep your schedule private.
Book clients online without exposing your taken slots. Clients see only what's available now—not a grid of your entire life laid bare.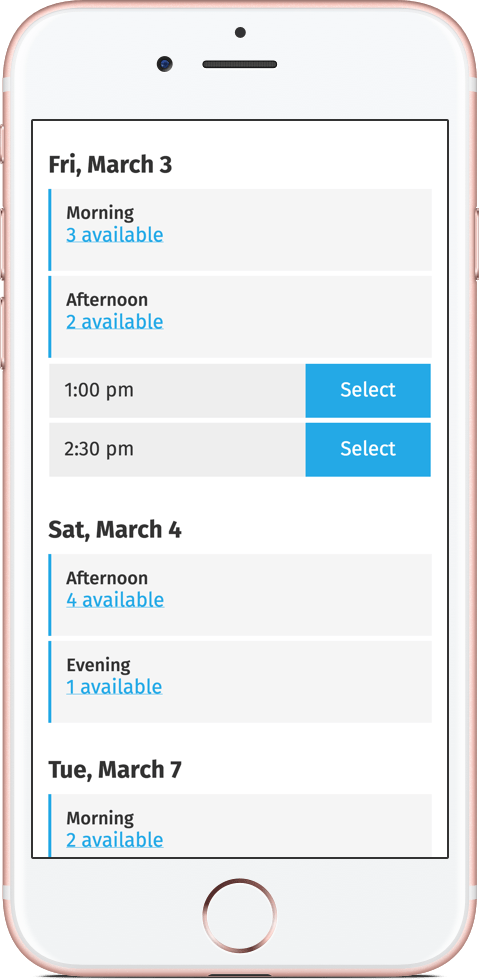 Does Hummingbook show "taken" appointment slots?
Never.
Other booking software on the market shows taken (aka: grayed out) slots. This is a bad practice because it…
Exposes how busy—or not busy—you are.
Tells strangers your come-in/go-home times.
Makes you look undesirable, like a restaurant with a slew of empty tables. "Hmmm… she's not very busy. Maybe I'll go somewhere else…"
Gives people negotiating power over your schedule: "Can't you just get me in?! I see you're normally in until 7 pm on most Fridays anyway…"
When and why you are in (and are't in) isn't anyone else's business.
I don't want people to know when—or how little—I'm booked.
They won't know.
Hummingbook is perfect if you're a weekend warrior, have another job, or just plain don't work much. We'll say it again: When and why you are in (and aren't in) isn't anyone else's business.
Hummingbook doesn't show appointment slots that are taken. It only shows the slot's that are open. You can leverage this to seem busier than you are.
How can I appear busier than I am?
You can use any combination of these techniques:
Use gapless booking. In this mode, Hummingbook only shows open slots directly adjacent to your other appointments. That means if you have an appointment in the middle of your day, Hummingbook will only show two available slots: one before the existing appointment and one after.
Limit how far clients can book e.g. 14 days
Sprinkle in some fake appointments. No shame in that! Remember: Hummingbook does NOT show booked appts; only available slots.