Win clients over before ever meeting.
Hummingbook is warm 👋 and chock-full of personality, 💃 just like you. And it better be—your booking system is your first impression. Make it count! 🏆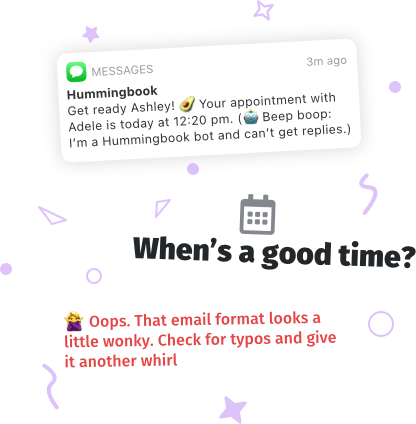 Other booking systems can't be that bad?
Ever meet a TSA agent in Terminal 3 on Christmas eve?
Sterile. Robotic. Cold.
That's the norm with TSA agents. And with booking apps. Because copy (aka: words-on-the-screen) is an afterthought when designing an app. Not here.
Give me the specifics of this so-called friendliness…
Big, blue, rounded, pushable buttons pop off the page so clients always know what to do next
Fun icons differentiate pages, giving them a sense of direction
Passwordless booking lets clients book faster without the friction of testing their memory
A smattering of emoji 👋🌮🌵 keep your booking system warm and friendly—just like you
Snappy load times mean less waiting for pages to load
Nice, big readable text saves your clients from reaching for their glasses
A warm, fun tone soothes technophobes fears at every turn
Being a bit dramatic, aren't we?
It can seem that way. But check this out…
Have you ever met someone and just hit it off with them instantly? A kindred spirit? A soul mate? Someone who talks like you? Thinks like you? Even dresses like you? 💃
It's a vibe.
Something you can't really put your finger on. But it's there. It's not one specific thing. It's a bunch of little things combined that make up their amicable personality.
Hummingbook aims to be that person for your clients. It's something our customers rave about.
You won't know until you give Hummingbook a whirl.