Reduce no shows with reminders.
People have the attention span of a goldfish. You can't rely on them to remember their appts. With automatic email & text reminders, they don't have to.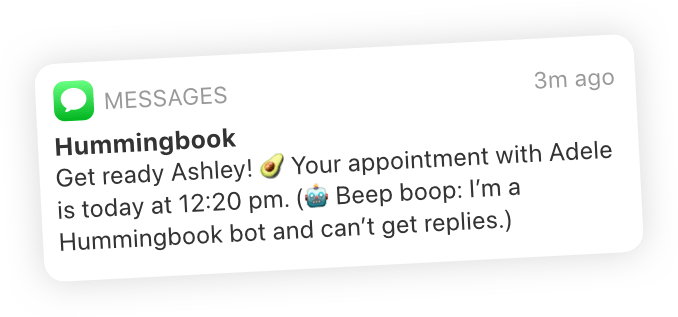 What if someone prefers email to text reminders?
No problem. Your client chooses the type of reminder while they're booking. And it's not set in stone. They can change their preference each time they book if they want.
Do you send confirmation emails?
Yes. Every client gets a confirmation email the instant they book. (You get one too.) This contains your contact info, location, and of course appointment time. A cancellation link is included as well.
How many reminders do you send?
Your client will get a max of three reminders. One at 72 hours, another at 24 hours, and the last at 2 hours prior to their appointment.
Hummingbook doesn't just blast these out either. It's smart. It figures out when your client booked, when their appointment is, and only sends the reminder if it makes sense.
For instance if your client books an appointment that's 26 hours away, Hummingbook will skip sending their 24 hour reminder.