Ditch your paper intake forms
Your clients might need to know certain things before they book. Things like your cancellation policy, how you handle late comers, how it'd be nice if they washed their hair before coming in 😝, etc. Whatever it is, write it down in Hummingbook's agreement/notice section. Clients sign with a click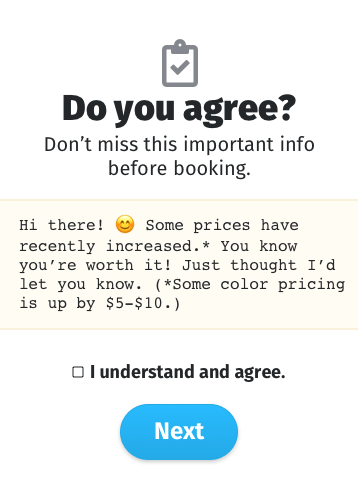 Paper kinda sucks
There's info you want your client to know before booking.
Stuff like how you handle payments, cancellations, refunds, no-shows, tardiness, or anything else.
You know: all the boring 💤 but necessary stuff.
It's a pain to communicate these things over and over again.
Never mind dealing with paperwork… ugh!
Printing paper sucks. Signing paper sucks. Storing paper sucks. (How long do you need to store signed paperwork??) Finding paper really sucks.
Save the trees (and your sanity)
Ditch the paper mess and create your own custom, digital agreement in Hummingbook.
An agreement sets clear expectations with your clients.
"Make sure you do abc before you come in."
"Remember my cancellation policy is xyz."
"If you're more than 10 minutes late, I might set your car on fire. 🔥🚙🔥 Sorry—not sorry…"
The best part? Your clients digitally sign and accept—via a little check box—your agreement while booking. Hummingbook records what version they signed, the exact time they signed, and even their IP address.