Available everywhere 24/7/365.
Left your phone in the car? Shattered your screen? Lost it in bed (again)? Pop open your MacBook, iPad, or Windows PC. Behold. All your appointments—safe and sound.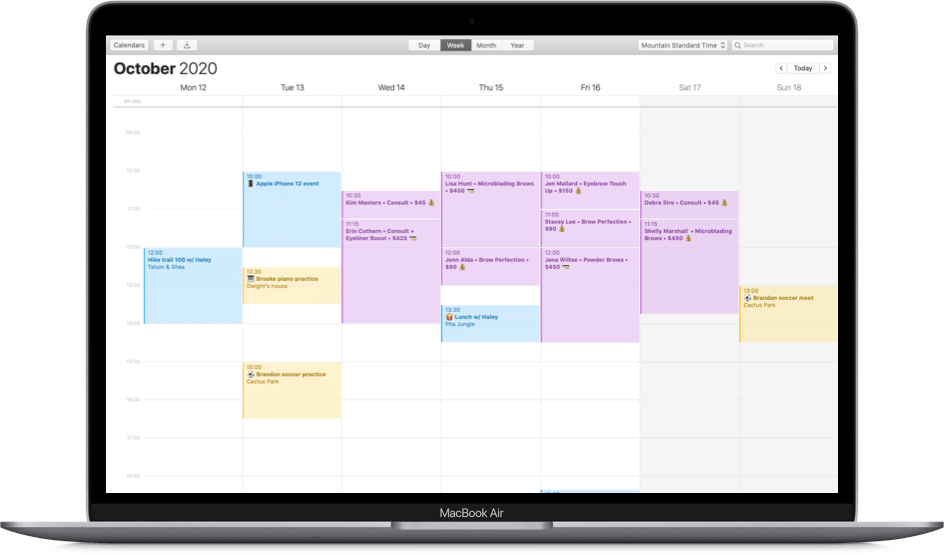 Phone screens are too small for me.
You don't need to use your phone as your primary device—or ever.
Hummingbook works anywhere there is a browser (and an internet connection).
See all your appointments full screen
Update your availability
Cancel appointments
Contact clients
Handle payments
All from the nice big screen of your Mac, iPad, tablet, or Windows PC.
Bring your broswer. Hummingbook will bring the rest.
Can I print out my schedule?
Absolutely. The touch. The feel. The sound. Paper can be pretty magnificent. And you can still use it.
Here's how: Let your clients book online so they get into your schedule fast. Then print out your schedule whenever you want—all from your browser.
What's wrong with my paper book?
Your schedule is your life. Without it, you're royally screwed.
A hard copy in your hand. What could go wrong? A lot…
You could forget your paper schedule somewhere
You might not have it at the critical moment you need to fit someone in
Prickles, your goat, could eat it 🐐
Someone could break into your car, and steal your bag (and thus, schedule)
You might forget to write a booking down and double book someone in the future
Your clients have to wait for you to respond to book (nobody likes waiting)
Can people still book if my phone is out of service or off?
100% yes! Your master schedule is in the cloud. This means you—and your clients—will always see your current availability.
Everything is synced all the time.
Even if your phone is run over by a tractor, you'll continue to get appointments. And you can even update your hours. (Just sign into your Gmail/Google account from any browser on any computer, iPad, or even a friend's phone.)