Ask clients custom questions
Asking clients the same thing over and over is a slog and a half. But their answers are important. They might change how long a service will take, how much it will cost, or what supplies you need. Have Hummingbook ask everyone, everytime.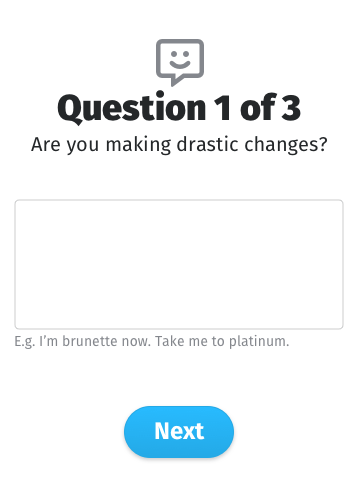 Beware the time bomb 💣
Some clients are simple. Other clients are unique cases you need to make adjustments for.
You likely deal with this now by asking each client preliminary questions; just to make sure you're not walking into a literal time bomb. 💣
A client's answer can change how long an appointment will take, how much it will cost, and what you need to have on hand.
But asking these questions is a slog! It takes extra time; time which you're already short on.
Ask questions up front
Have Hummingbook ask questions on your behalf.
"What can I do to make this session better than last?"
"Are you a new client?"
"Anything special I should know prior?"
"Are you going from dark to light?"
"Are you willing to bring me donuts? 😜🍩"
Ask anything you'd like. No more back and forth prepping for each client. It's like having your own personal assistant.
PS: Answers land in the notes section of your client's appointment—right in calendar. There's no email to dig up or system to log into. Just pop open your calendar and get the low down on who's about to walk through your door.