Save gobs of time with automatic questions.
Asking the same thing over and over is a slog. Wash your hands of this tedium with custom questions. It's like having your own personal assistant.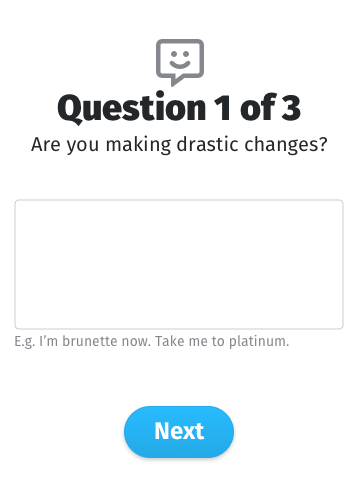 What are some things I could ask?
"What can I do to make this session better than last?"
"Are you a new client?"
"Anything special I should know prior?"
"Are you going from dark to light?" (Hair)
"Have you had permanent makeup before?" (PMU)
"Can you describe the size, colors, and placement of the piece you want?" (Tattoo)
"Is your hair longer than 3/4 of an inch?" (Wax)
"Will you bring me a donut and Starbucks? 🍩☕️"
What should't I ask?
No need to ask the following [since Hummingbook gathers these already]:
First & last name
Phone number
Email address
Credit card info*
Credit card info is only gathered if you setup deposits/prepay.
Where do all these answers land?
Answers land in the notes section of your client's appointment—right in iPhone Calendar.
There's no email to dig up or system to log into. Just pop open your calendar and tap on their appt.
We send you a confirmation email for each booking too—which contains their answers.
Have payments setup? Clients' cc info will hit your Stripe account. Their full, sensitive card info is never shared with you or Hummingbook. Instead you get a representation (called a token) so you can handle additional charges/refunds without their cc info being exposed.
My clients won't want to answer.
You can choose which questions are required, and which are optional. Clients can push Next to skip optional questions
That being said, remember, this is your business, not theirs. If there is something you need to know, ask away.
I don't want to ask any questions.
No problem. This isn't a mandatory 5th grade book report 📚. You're not required to ask any questions. 😉