Book clients into iPhone Calendar
Calendar. It's already baked into your iPhone. Jump around with six gorgeous views. Find future & past appts with blazing fast search. See your day at a glance with new home screen widgets. View all your calendars—personal, clients, kids—side by side or focus on one calendar only with the calendar picker. Stay in sync with iPhone/Mac/iPad/Watch integration. And enjoy the ease-of-use only Apple can perfect over a decade of development. ⚠️ WARNING ⚠️ Other booking companies want you to abandon all this and deal with their clunky app. Not Hummingbook. There is no app. Hummingbook books clients straight into your built-in iPhone Calendar—like magic.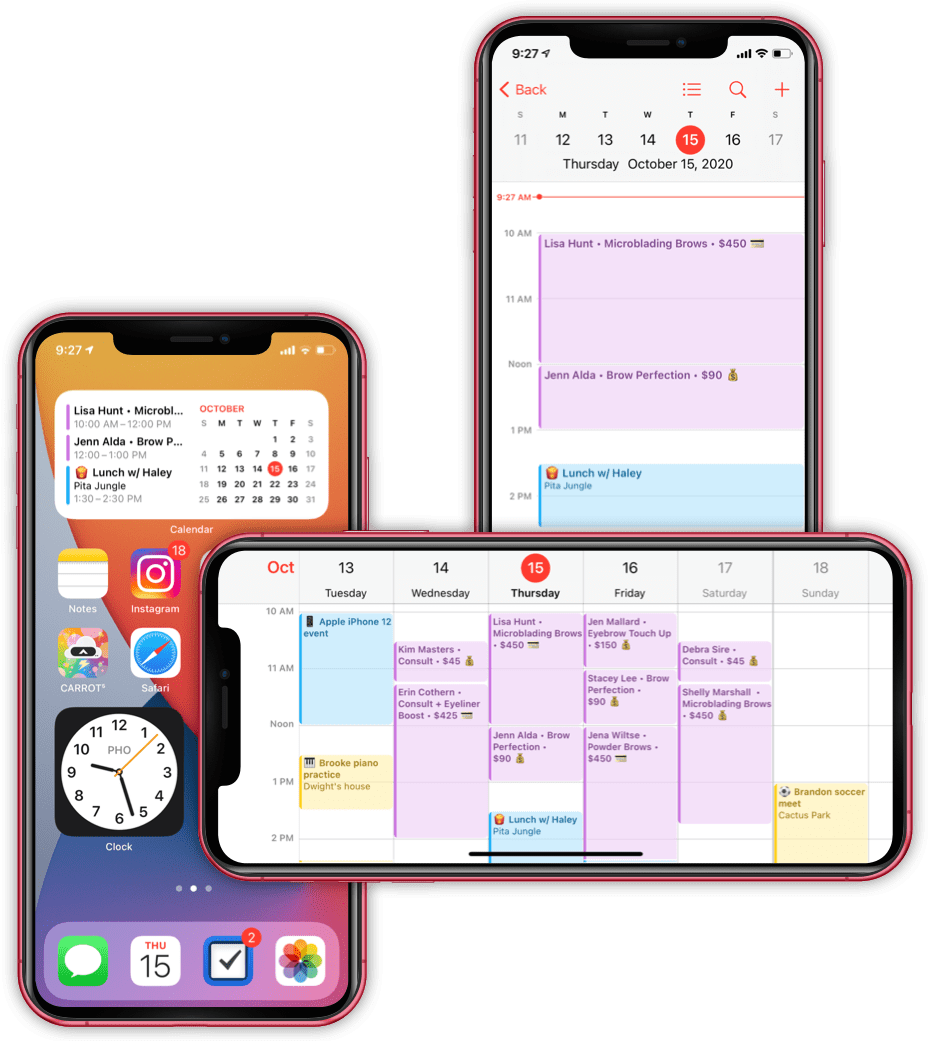 This is what other booking companies do to your appointments…
Other booking companies make you download their clunky calendar app to book clients online. (That's where they stuff all your booked appointments.)
But hold up…
Don't you already have a calendar app on your iPhone??
Yes… yes you do. It's called… wait for it… Calendar. 😏 All your personal/family/work appointments are already stored there (or can be).
So what's the problem?
You now have two calendar apps. One for clients. One for all the other stuff. That means there's two places to check when scheduling something.
Your life just got harder—not easier.
Need to book a lunch? Make sure you're free in your online booking app. And in Calendar.

Want to fit another client into your day? Open your personal calendar app and your booking calendar app.

Does Timmy's tooth hurt? Better clear out two calendars for his dentist appointment.
🦖 This is a recipe for disaster.
Anytime you need to schedule something, you'll have to flip back and forth between two apps, making sure you're not accidentally double booking someone—or something.
Hummingbook puts all your appointments in one place
Hummingbook puts all your booked appointments in one app: Calendar (aka: the calendar app that's on your iPhone right now).
One app. One calender. One place to check your schedule. One place to update your hours. Simple.
Stay organized with all your appointments in one app
Enjoy dark mode, six calendar views, and a next-up widget
Check your your schedule from your iPhone, iPad, Watch, or Mac—or any device that has a browser
See all appointments (personal/family/clients) at the same time or…
Focus on one calendar category (clients) at a time
Think about it this way: You don't have a different email app for each email account. You have one email app. You go to one place to check all your email accounts. (While still having the ability to focus on one inbox at a time).
The same should be true of your appointments, and is true, when you use Hummingbook.